Sep 06, 2023
The landscape of building regulations is rapidly changing, and it's critical to be aware and prepared for the future. While codes and regulations have long shaped our industry, a new wave of measures is demanding immediate attention.
Recent years have seen a shift towards prioritizing carbon emissions reduction and other sustainable practices in building design, construction, and operations throughout the country, along with added emphasis on the safety of buildings. Forward-thinking communities are leading the way by adapting rules focused on decarbonizing the built environment—including transitioning away from gas and oil, reducing energy consumption, and promoting renewable energy production. In addition, increasingly stringent facade and balcony inspection and reporting requirements have been adopted by more jurisdictions to protect the safety of occupants and pedestrians.

We're tracking these shifts closely--some current key requirements across the country are:
• Bans on gas and oil equipment installation are being implemented for new construction projects in New York, Washington, D.C., and California.
• New York City and Denver (among other cities/municipalities) have implemented phased carbon emissions reduction targets as outlined in New York's Local Law 97 and Energize Denver.
• Energy and water benchmarking reporting requirements are spreading across the country— including benchmarking mandates that took effect in 2023 in New Jersey and Washington, D.C.
• Façade inspection requirements are being adapted in more jurisdictions—Jersey City recently joined New York City, Boston, Chicago, Philadelphia, San Francisco, and other cities requiring periodic evaluations by qualified professionals.

• Solar or vegetated roof requirements have been instituted for new developments in New York City, Denver, and Washington, D.C.
• Jurisdictional requirements to provide electric vehicle (EV) charging stations are expanding as demand from tenants increases.
• Real estate investors are requiring increased transparency concerning carbon emissions and other ESG and property resilience data.
• California building code has evolved to limit embodied carbon emissions for new construction and major renovations of existing commercial buildings.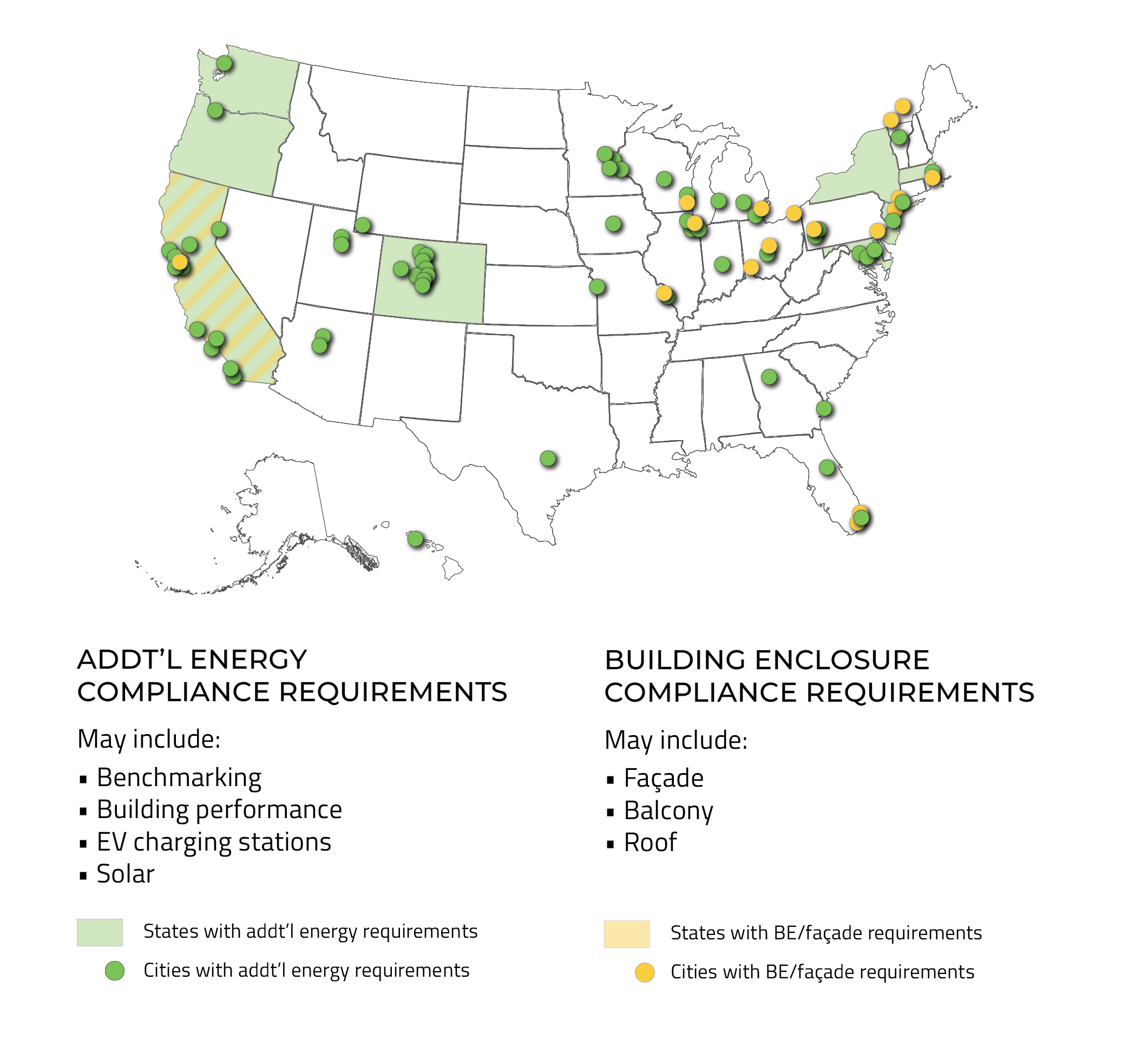 How can you prepare now so you can preserve and increase value?
If you haven't considered these critical measures yet—it's time. Expect similar regulations to be implemented across cities and states in the coming years. Working with an advisor who understands the nuances of requirements can help you anticipate and prioritize what you need to do next in order to stay ahead.
Marx|Okubo has been guiding building owners and investors through this evolving landscape with a holistic approach and practical solutions. We continue to leverage our multidisciplinary expertise to help clients navigate regulations, analyze strategies for improvements, and identify incentive programs to ease financial burdens, such as state and federal tax credits, utility rebates, and other local funding opportunities.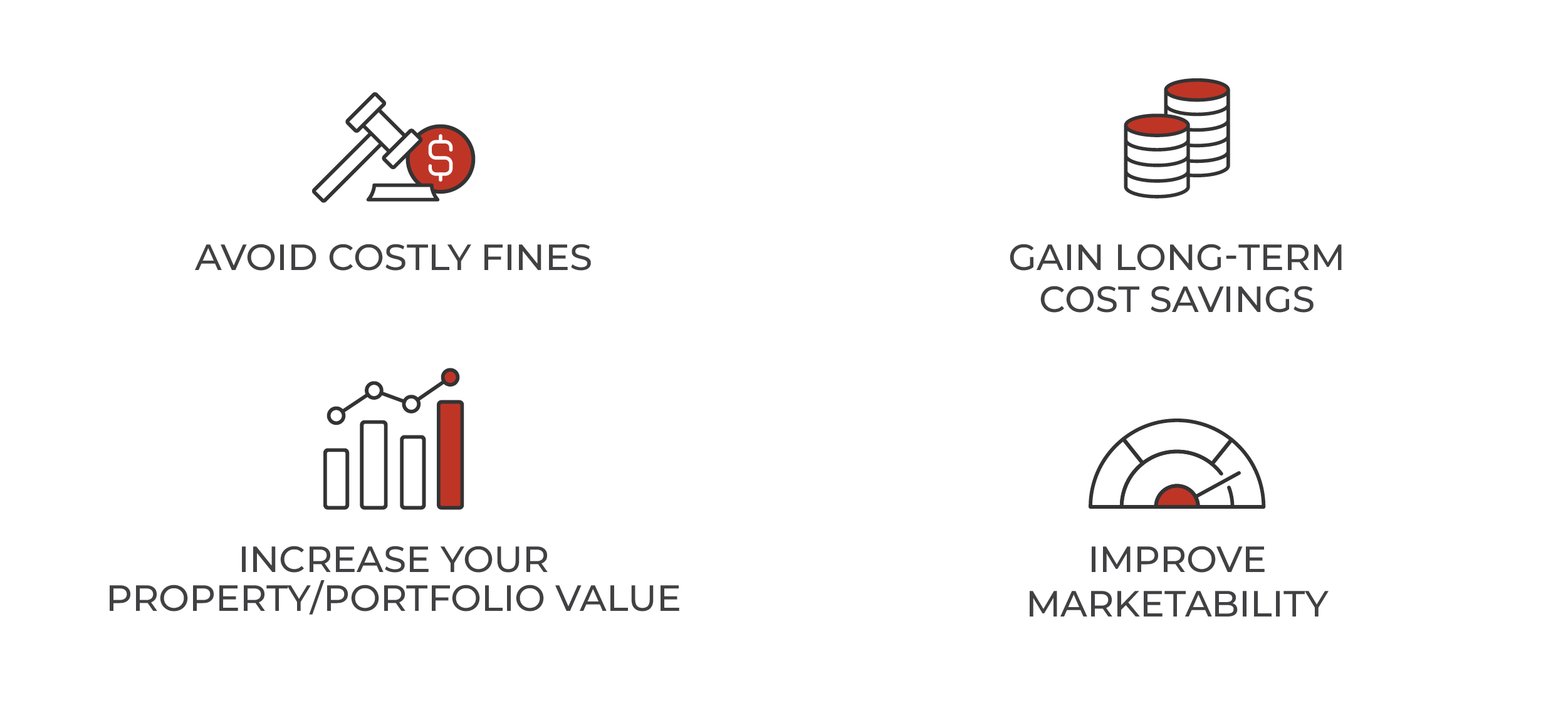 While we are helping building owners understand how these requirements impact their properties, we have found there are synergies to maximize the benefit of every investment in building systems and infrastructure. Addressing a range of issues—from future-proofing designs for new buildings by reducing reliance on fossil fuels and planning for EV charging and solar-ready infrastructure to implementing retrofits of existing facades, balconies, and roofs to improve safety and energy performance, we are guiding client teams to preserve and increase the value of their investments.
If you'd like to discuss strategies for a sustainable and successful future, please contact us at regulatory_guidance@marxokubo.com.