September 3rd, 2020
We've covered the latest mandates coming out of California that will guide Zero Net Energy (ZNE) building around the country. But what does ZNE look like in the real world?
One common misconception is that different climate zones will impact ZNE applications. But so far that has not been the case locally — or globally. In fact, ZNE buildings have already been designed and built in 16 of the 20 unique climate zones in the continental United States.
Designing and engineering for ZNE
When looking at designing to achieve ZNE success for the future, more important than climate zone considerations is building type, program and overall massing. The way a building is designed and engineered, its orientation to the sun or wind, the type and amount of glazing, the amount of people and their activities in the building, and the use of the building and associated equipment all have an impact on energy usage within a building.
For a building to achieve ZNE performance in a real-world scenario, it's critical that engineers research and analyze the proposed energy utilization prior to design. The main goal? To design a building to be as efficient as possible, lowering overall energy utilization before considering how much renewable energy generation is needed.
Current research indicates that we can only increase building efficiency to a certain level before we see diminishing returns. The reality is that most ZNE buildings are between 50% and 80% more efficient than a comparable building designed to standard codes.
Impacts of human behavior on ZNE
Design and engineering behind a high-performance building must also account for human behavior to ensure the building is operated the way it was designed to perform. For example, energy-usage issues such as plug loads are mainly driven by human behavior.
Accounting for the turnover of patrons or occupants is also important, and regularly scheduled user education is key. A student dormitory or rental apartment complex, for example, requires more education sessions versus an administration office building with very low turnover.
ZNE case studies
Only new residential buildings are required to comply with ZNE starting in 2020; existing buildings are exempt. However, for commercial or high-rise multifamily, 50% of existing buildings and all new construction will need to comply with ZNE in 2030.
One of the best ways to understand ZNE is to see these buildings in action. Here are some case studies showcasing a variety of building types.
ZHome – Washington state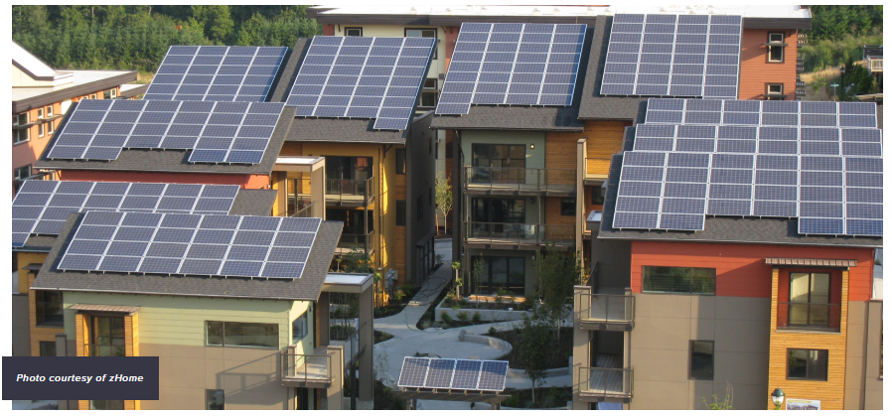 ZHome is a low-rise, 10-unit townhouse project in Washington state. The complex uses one-third the energy of a similar traditionally designed and engineered townhome (5,225 kWh vs. 13,989 kWh). With the reduction in energy usage, the costs of renewables were also significantly reduced and became viable for this project.
Importantly, residents are the key factor in energy savings at ZHome. All units have energy-feedback monitors that inform residents of their usage, which helps modify behavior. Other innovative design features include:
Ground source heat pump for both heating and domestic hot water
Super-insulated exterior envelope - R38 Walls 2x6 walls with expanded polystyrene and 3-inch rigid insulation on exterior
R60 SIPs roof/ceiling
Hydronic heating - no ducts
Mutual Housing – Spring Lake – California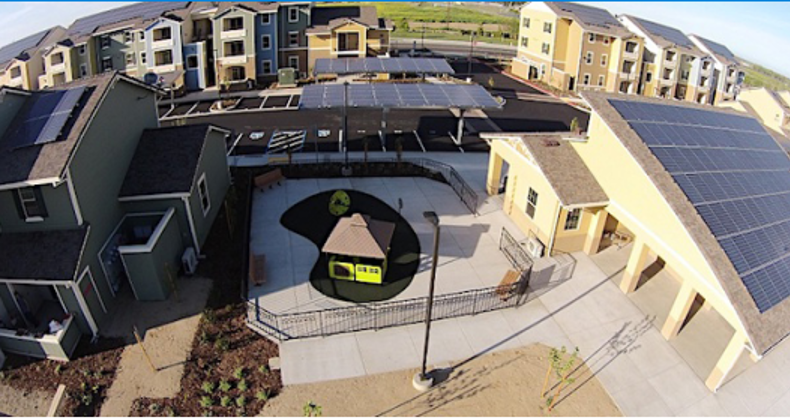 Built in 2015 for agriculture workers in Woodland, CA, this award-winning Department of Energy-certified zero net energy rental-housing (ZNERH) project consists of 62 affordable apartment and townhome units. With ZNE designation, the developer was able to obtain $5.5 million in federal funding and other tax credits. Additionally, residents are intentionally educated about Spring Lake's ZNE features.
Innovative design features include:
Electric heat pump for both heating and domestic hot water
209KW photovoltaic system (8% cost premium after rebates)
Well-sealed and insulated building - R21 in walls, R44-49 in attics
Diakin Altherma heat pumps for heating, cooling, and DHW
Tenant energy monitoring system
Thermostatic shower heads
Zero natural gas usage
Sage on Prospect – Wisconsin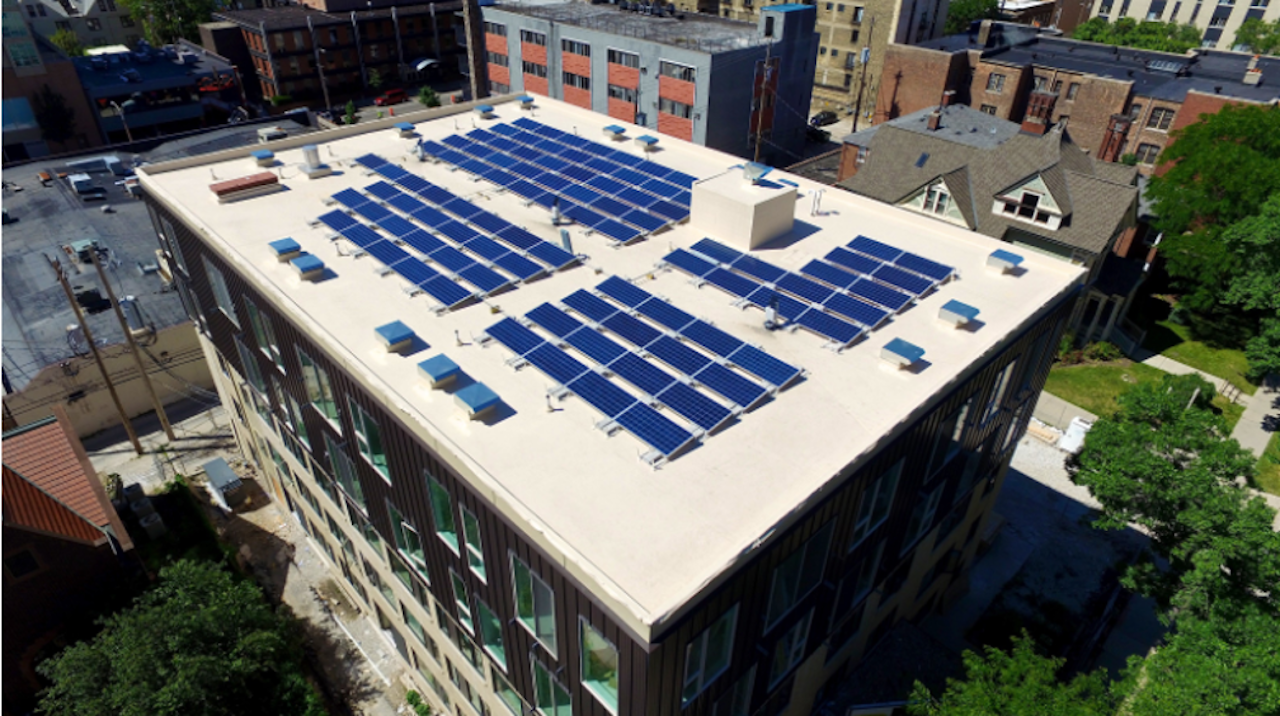 Dominion Properties' second ZNE multifamily property development in Milwaukee, Sage on Prospect is a 5-story, 20-unit apartment building with a signature 29-kW solar PV roof installation.
Other innovative design features include:
Electric heat pump for both heating and domestic hot water
600-foot-deep geothermal wells tied into the heat pumps for both heating and cooling
29KW photovoltaic system
Well-sealed and insulated building
KB Home – Headquartered in Los Angeles, CA
In the single-family-home sector, KB Home in 2011 completed a ZNE prototype in Orlando, CA and, as of 2018, had completed 11 more around the nation. All provided a net-positive cash flow for the homeowners because the overall energy savings exceeded the added mortgage costs of installing energy efficiency measures.
Studies by Energy and Environmental Economics (E3) on behalf of the CEC indicate that in 2020, the first full year of solar compliance, 117,000 single-family residences and 52,000 units multifamily (low- and high-rise) will go under construction.
There's no doubt that the impacts of ZNE will be profound — and the questions surrounding the mandate will equally weighty. As a leader in architecture, engineering and construction consulting, Marx|Okubo is here to answer your most pressing questions about the future of sustainable building. Please contact Gerard Lee with any questions.