Jan 31, 2022
Given today's changing environmental conditions, hazard screenings are a helpful risk assessment tool for real estate owners. No matter where their building may be in its lifecycle (new construction, existing asset, acquisition, etc.), many of Marx|Okubo's clients complete this initial screening to get a snapshot of hazard vulnerability to evaluate preparedness. But without a bigger context, many are left wondering, "What's next?"
To answer that important question, we designed a diagram to explain the process of defining, attaining and maintaining an acceptable level of risk for a property—a process that can be applied across a portfolio. We call it the Resiliency Lifecycle.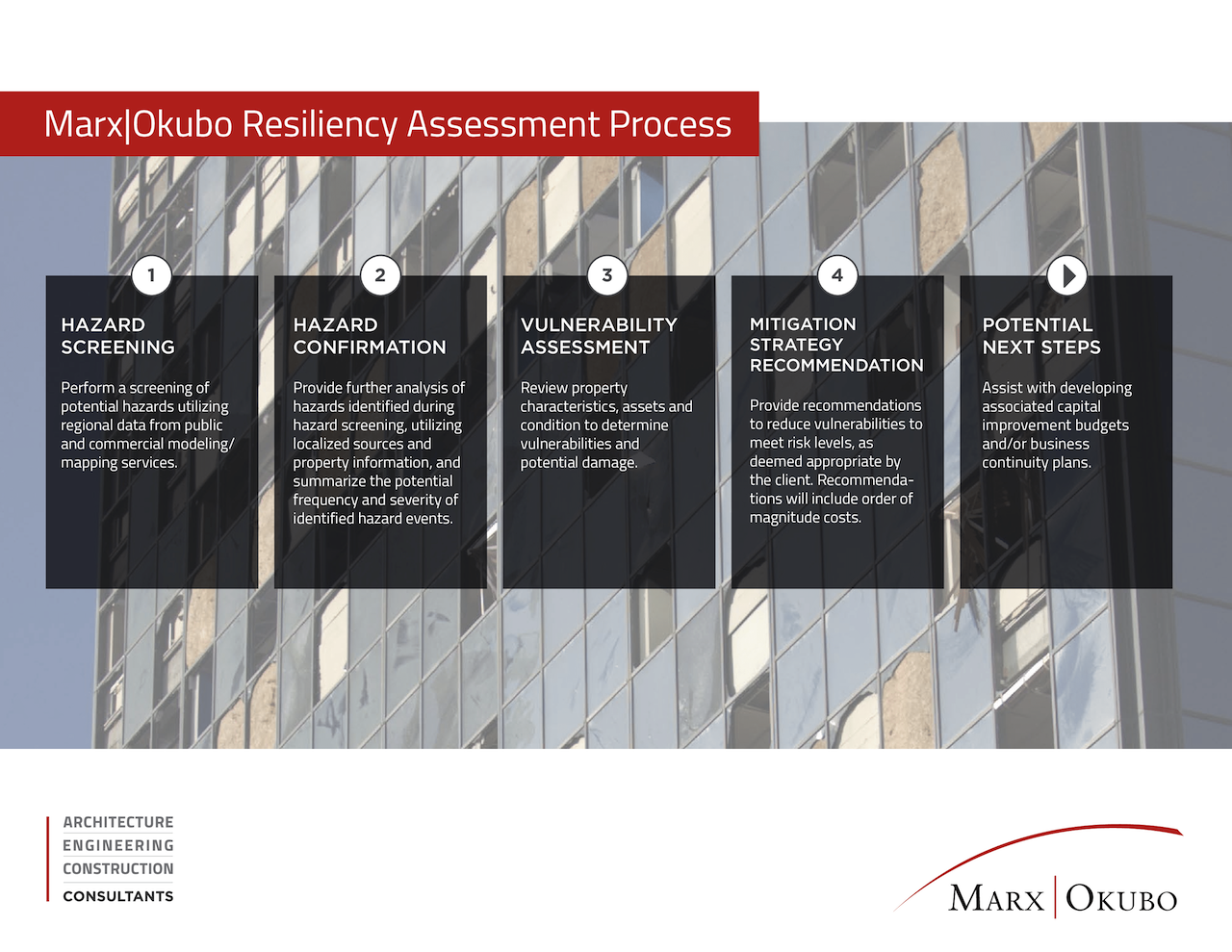 A uniform framework for prioritizing capital spending in order to minimize risks, the Resiliency Lifecycle is our way of helping clients ensure they don't exceed a specific risk threshold, whether for an individual asset or across a portfolio. By evaluating holistically a property's hazards and overall property condition, we can properly set up and leverage metrics to ultimately communicate risk levels to investors. This also helps portfolio managers incorporate mitigation strategies and repair recommendations to reduce risk into transaction/capital expenditure budgets.
While each asset type and client engagement is different, determining a baseline vulnerability/ status is critical. Deferred maintenance or a hazard event can make a property more vulnerable, exceeding the client's vulnerability/risk threshold. To help clients maintain the baseline status for each property, our resiliency assessment will identify relevant maintenance, repair and capital expenditure options.
Beyond an initial hazard screening and characterization, we assist clients by defining the property's vulnerabilities and possible mitigation strategies. Other services may include in-depth analysis of red-flag hazards, assisting with a business continuity plan to minimize downtime during or after an event, or a post-event assessment to identify damaged systems that may increase future hazard vulnerability.
Some of our recent real-life examples can illustrate how we have helped clients along the Resiliency Lifecycle:
Marx|Okubo was contracted to perform a resiliency review during the acquisition of a new construction project in the Boston Seaport District, an area directly adjacent to Boston Harbor. In typical hazard screening software, this area was identified as high risk due to its proximity to the oceans tides, its low lying lands and the projected stresses of sea level rise. Investigating further, Marx|Okubo was able to reduce hazard vulnerability by confirming several design features and resiliency plans included in the building's construction. We also observed a flood barrier deployment to confirm proper protocols were in place to protect the building from flooding.
Also, for one of our industrial real estate investors, Marx|Okubo performs resiliency reviews for each acquisition-related property condition assessment. In these reviews, Marx|Okubo assesses the property's vulnerabilities and risks related to the specific known hazards as well as the property's characteristics and condition. Then the team compiles mitigation strategies that integrate resiliency concerns with capital expenditures, as this client is particularly interested in the short-term resiliency upgrades that can be made in a 10-year time frame.
No matter what condition your building or portfolio is in, Marx|Okubo can help real estate owners and stakeholders navigate the resiliency process. From defining acceptable risk levels, to analyzing hazards across a portfolio, to starting resiliency assessments, we're here to share a new model for resiliency in the built environment. For more information about resiliency practices and planning, please contact Courtney Wladyka or Marko Nikic.